I'm excited to be finally writing about Toronto; it's a topic I've wanted to tackle for some time. For those who don't know, I recently left Toronto and am now in the process of getting to know one of the most similar cities in the world: Chicago. However, leaving the city has clarified a number of thoughts I've had about the best and worst parts about Toronto. Until now, it was basically the only big city I had experience living in so it took moving away for me to realize what makes it special. Having been inspired by similar posts about people's experiences living in Austin, Amsterdam, and Lisbon, I wanted to try my hand at capturing the city I called my home for 5 years. Also, a :small logistical note.
I suppose I should begin by pointing out that for many people all cities are really kind of the same. If you spend half the day at work and the other half relaxing at home, then the only things that really matter to you would be the traffic and the grocery prices. I think this applies in big cities more than any other, but in order to appreciate a city you have to go out and experience it. So much of what I'm going to say only really applies if you're the type to step outside your comfort zone and try new things. If you do like change and adventure however, I think Toronto is a great place to be.
:x Logistical Note
So I got this cool plugin called :Nutshell by the wonderful :Nicky Case. It's basically a way to embed explanations into a website to add extra detail or footnotes without cluttering up the main article. I can even use it to showcase some of my other favorite content, like this :funny video on hustle culture. I don't want to overdo it, but hopefully this will add some richness and personality to the blog.
A Little Background
There are plenty of boring historical facts I could start with: the Toronto Purchase in 1787 between the Mississauga First Nations and the British or the Great Toronto Fire of 1904. However, in my opinion, there's only one piece of information you really need to really understand the city.
Toronto for much of it's history was not a very large city. Comparable North American cities like New York or Chicago were already grown up and booming metropolises by the 1950s, while Toronto was still getting started. In fact, until the 1960s Montreal was the financial and cultural hub of Canada, and what came to mind when most people thought of Canada. As the graph above shows, it wasn't until the late 20th century that Toronto's growth really picked up the pace, and even up to today it's showing no signs of stopping. In 2019, Toronto was the fastest growing city in all of the US and Canada, while in that same year other metropolises like New York were losing population. Now, this might initially feel like nothing more than a fun facts, after all how is Toronto's growth rate relevant to the experience of living in the city?
Diversity is Our Strength
For those who are unfamiliar with the city, there are plenty of things that Toronto is notable for. In 2021 it was ranked the second safest city in the world according to the Economist. It's also well known for it's multicultural identity; some consider Toronto to be the most diverse city in the world both in terms of the number of its immigrants as well as the diversity of their backgrounds (fun fact, over half of Toronto is made up of minorities meaning that the majority of people are minorities). This has of course led to benefits in other facets such as having one of the most diverse food scenes in the world, as well as being near the top in many other industries like tech and movie making.
So what do all these rankings tell us. Clearly each one of them is subjective and all of them are up for debate. However, there's clearly something unique and special happening in Toronto; something that's causing people to take notice on a global level. All that growth is primarily driven by immigration (thanks to Canada's world class immigration program), which means that every year tens of thousands of people around the world decide to call Toronto their new home over every other option they have. This, in my opinion, is a pretty big deal and the ever-present diversity and constant influx of new ideas is a big contributor to what appeals to me so much about the city.
Growing Pains
It wouldn't be fair of me to only discuss Toronto's most favorable aspects, so before I really get into what I loved about living there I should at least mention some of its flaws. However, I think that many if not all of these problems boil down to the extremely fast growth the city is experiencing, which I referred to as one of its biggest strengths. Housing prices are some of the worst in the entire world, largely due to a combination of archaic zoning laws as well as the fact that no matter how quickly we build, demand is absolutely massive and continues to grow. After all, tens of thousands of new immigrants show up here every year and they all need places to live. This is probably one of the greatest problems facing the city and contributes to our relatively large homeless population (however luckily it's still mostly safe downtown). Some progress is being made on this front but it's very slow, which is really disappointing because this is probably one of the worst parts of living in the city right now. If you don't make enough to afford the city it can seem like a cold and tiring place to live, especially if you plan on having kids.
Toronto's transit infrastructure is also close to buckling under all the pressure, and new investments are sorely needed. It has relatively few rapid transit options compared to, again, similar cities like Chicago and New York and for a period of decades nothing new was being built to handle all of the incoming growth. Most of the population is also spread out over the other cities Greater Toronto Area, which is largely filled with suburban sprawl. Although some of these areas may have bus service or regional rail, it forces most people to either embark on long commutes or drive if they don't want to pay the absolutely ludicrous prices it takes to live downtown.
The climate is also a fairly contentious point for some. Yes it's true that our winters are cold and wet, but we Canadians learn to enjoy ourselves in the snow. I find a particular beauty in seeing fresh snowflakes dancing in the night as car headlights pierce through the gloom and illuminate each one slightly differently. Snowy weather also gives you the opportunity to try winter sports; I for one tried skiing for the first time this year and it was such an exhilarating and intense experience that it made me grateful to be able to live somewhere I can take a day trip to the slopes. This is a theory of mine, but it's something I've also observed in Chicago: I think that living in a place with harsh winters makes the summers that much more fun and lively in the city. When people spend a third of the year cooped up and looking forward to good weather, they take full advantage of the summer and enjoy it to a degree that people in temperate climates may not. Personally, this is a big draw to me to continue living in four season cities.
A City of Change
So if the city is facing all these problems related to extremely fast growth, and the growth is unlikely to slow anytime soon, then why would you want to live somewhere going through all these growing pains? To put it simply, I think Toronto is one of the most exciting cities in the world right now, because of all the change it's going through. So many cities in the world, especially in North America feel like they're either stagnant or in decline; like they've already peaked and are just shells of their former glory. In Toronto, it's hard not to be excited for the future because you know that the Toronto of 2030 is going to be much more interesting and interconnected than the Toronto of today, and the Toronto of 2040 will be even more so.
I suppose I would describe myself as an urbanist, so alot of what excites me personally are the upgrades coming to the city's bike and transit networks. What I've discovered in my 5 years living without a car in downtown Toronto, is that ease of transportation is fundamental to how my enjoyment of a city. In my experience you're essentially limited to the grocery stores, restaurants, and entertainment that you can easily reach within 15-30 mins of home; anything longer starts to feel like a chore. Access to transit and cycling literally expands your horizons, and opens up so much more of the city for you to explore. One of my favorite activities would be to sign up for events all over the city, and then use it as an excuse to bike there early to take in all the new restaurants and parks and people in the new area. When you live car-free, it's necessary to find reasons to get outside and experience the many things the city has to offer, and Toronto is getting better and better at that every year.
So what are the new transit upgrades coming? Well for one I am an avid cyclist, and I think biking is by far the fastest and most enjoyable way to get around a city. Toronto hasn't always been the best city for this, but luckily the pandemic has spurred the city's bike lane network and the bikeshare system to new heights. Every day it gets easier and more popular to grab a bike and reach areas of the city that couldn't be reached before, and I can't wait to see how many cyclists we'll have in a few years. In addition, we're building multiple new rapid transit lines as well making existing ones faster and more convenient. I know all the construction bothers some people, but in my opinion it's a very cool feeling to regularly see small upgrades and efficiencies added to the places you use every day; it keeps things fun and fresh. Many cities in North America are doing similar things these days, especially because of climate change, but in my opinion Toronto is still the benchmark for urban growth and transformation. In 2040 Toronto may very well be the best North American city to live in without a car or as a cyclist.
This mindset seems to extend to the people of Toronto as well. Many people here can be very critical about Toronto's flaws, but I think that's because we all recognize the immense potential the city could have. The converse of that is I've met so many people who are positive about the future of the city and are working hard to make it happen. It's also extremely cool to live in a city so full of immigrants; it's so easy to discover people and cultures I never would have learned about were it not for Toronto. I love the experience of walking down down a new street and chancing upon an authentic hole in the wall restaurant from a cuisine I've never tried before, often complete with traditional music playing in the background. The variety of perspectives makes the people very accepting and open-minded, and no matter what you're interested in you can always find friends who share those interests. There's so much happening that everyone is able to discover their own secrets engage in the city in their own unique way, which always makes meeting new people an exciting experience.
My Other Favorite Things
A large part of what appeals to me about Toronto is its exciting future, but I'd like to note some of my other personal favorites around the city:
Toronto Island
Most big cities have a beautiful skyline, but very few have a place to appreciate it as nice as Toronto Island. Having 800 acres of beautiful, car free parkland just 15 minutes away from the core of downtown is an amazing asset. Aside from skyline views, there's beach access, forested trails, and even an amusement park. It's definitely one of the best places to get away from the city without having to travel far, if you can find a time when it's not too crowded with tourists. It also contains a small airport which you can bike to from the mainland, which happens to be one of my favorite airports to fly out of. How often do you get to bike to the airport and then fly out with beautiful view of the lake when taking off?
The Path
This one is a little less known, but I find it really interesting. Because of its harsh winters, Toronto has a massive underground shopping network of over 30km that connects to multiple hotels, subway stations, and shopping malls. It's more useful for office workers, but you can get almost anywhere in the downtown core underground if you need to. If you ever need somewhere to explore or play hide and seek in, what better place than the city under the city.
Biking Around
I've mentioned this before, but it's such a breath of fresh air (literally) to live in a city where biking can be your primary mode of transport. Toronto unfortunately can't compare to European cities on this front, but it's one of the few cities that looks like it might someday get there. Toronto's bikeshare system keeps setting records for the number of new users, and over 100km of new bikelanes are will be built over the next few years. I really look forward to going places just to have an excuse to feel the wind in my hair and get my heart pumping. In addition to being the most fun and economical way to get around, it also happens to be the fastest because of the notorious Toronto traffic. I just hope that the safety issues that prevent people from enjoying the city on a bike continue to be taken care of.
The Don Valley
Toronto happens to be situated right next to a massive river that is full of trails and parkland. It's lower than the rest of the city that surrounds it, so biking here essentially involves going straight downhill for 10 minutes along a beautiful, tree lined road which is really really fun. One of it's bigger sites is an abandoned quarry which now is home to some amazing greenspace and lots of restored animal habitats. The Don Valley is right next to the city, and it's really cool to go for a walk to escape the city and reach the center of an urban forest and river within 15 minutes.
University of Toronto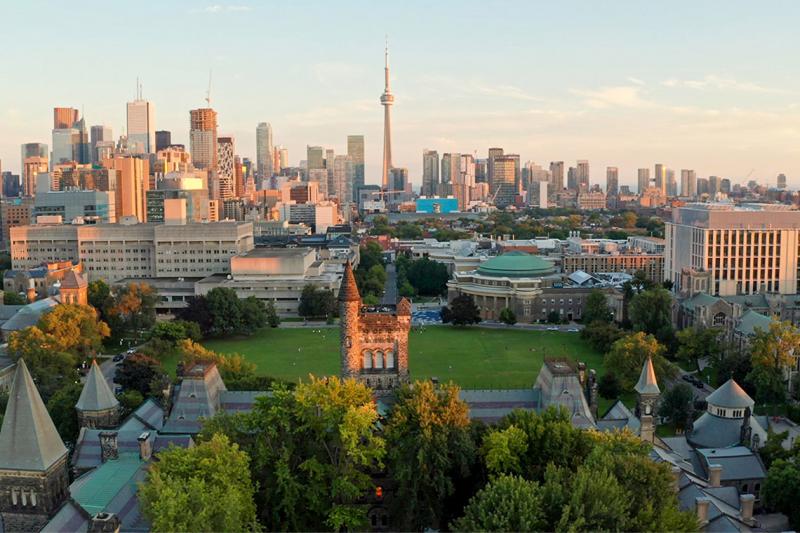 Yes, it may come as a surprise to some but I really enjoyed my time at U of T. One of the coolest features was being situated in the heart of the city, minutes away from tons of restaurants and entertainment. It's true that as a commuter school it can be tough to make friends, but since you're right in the city you can meet people from all over the place. I don't think going to such a big, busy university is for everyone, but as someone who already likes big cities I had a great time.
The fact that everyone has a different list
Like I mentioned, Toronto has so much to offer that everyone could make their own unique lists about what they love and I find that really amazing. For some it might be Toronto International Film Festival, which is one of the largest film festivals in the world, and sailing on Lake Ontario. For others it might be the amazing Chinatown and Toronto Caribbean Carnival, both some of the biggest concentrations of those cultures in North America. It's close proximity to Niagara Falls and gorgeous provincial parks might be it for some. It's not worth going through every single one of Toronto's attractions, but the best part is that everybody has their own favorites, some of which I might not have ever heard of.
Getting a chance to make the city work for me, and then seeing how it works for everybody else is a really eye opening experience, and I think that this more than anything else is what helped to broaden my horizons when I lived in Toronto. To sum it up, I really appreciated living in such a dynamic city with such a bright future and people so passionate about what the city could be. With so much going on, and more coming every year, I think Toronto is one of the coolest places to be if you like change and growth. I can't wait to visit in 5 or 10 years and see how different things have become. In the meantime, I'm looking forward to discovering what Chicago has to offer.